Dumpster Rental Midland TX
Schedule the dumpster rental Midland TX homeowners, businesses, and construction companies depend on from LJ Containers today! As a reputable waste disposal company dedicated to providing efficient, cost-effective, and environmentally friendly waste management solutions, our commitment to high-quality service and customer satisfaction sets us apart in Midland, Texas, and the surrounding areas of Midland County.

Our company offers a comprehensive range of dumpster rental sizes, each designed to cater to your specific project requirements. Whether you're a homeowner undertaking a cleanout, a contractor managing a new office park development, or a business owner hoping to streamline your regular waste management needs, our dumpsters are the optimal solution. Our user-friendly website provides detailed descriptions of each dumpster type, simplifying the selection process and allowing you to book the dumpster rental Midland TX and neighboring cities use year-round.

Whether you're a property manager, a construction professional, or a homeowner, we have the perfect waste solution to streamline your tasks with the #1 dumpster rental Midland TX has to offer. Known for our dependability, flexibility, and top-notch customer service, we're committed to making your waste disposal process smooth and stress-free. Dive into our website to discover how we can make your project more efficient and environmentally responsible, one dumpster at a time.
Roll Off Dumpster Midland TX: Tailored Waste Solutions for Every Project Type
We've got the roll off dumpster Midland TX residents, businesses, construction companies, property managers, and individuals can rely on to effectively haul away waste of all types. From minor roofing repairs and seasonal clean-up to full-scale commercial roof replacements and housing developments, our heavy-duty bins will handle the waste disposal so you can focus on the task at hand.

For the commercial scene, our dumpsters serve as a reliable ally for all sizes of businesses. They effortlessly handle waste from dynamic restaurants to retail shops in the throes of a makeover. Events, big or small, also find a dependable waste disposal solution in our dumpsters, ensuring a tidy and welcoming environment for attendees. Whether you're looking for a short-term solution to get through an office park makeover or need dependable permanent waste management, we're here to help.

In the realm of construction, we have the roll off dumpster Midland contractors and construction professionals know is up to the task of managing a wide range of bulky, potentially hazardous materials, from dense debris like bricks and concrete to lighter substances such as wood and plasterboard. Be it a towering commercial structure under construction or a simple home renovation, our dumpsters stand ready to serve.

And we don't overlook the needs of homeowners. Our roll off dumpster services prove invaluable for tasks such as home remodeling, yard work, or just a good old-fashioned decluttering session. We can tackle virtually any kind of domestic waste, adhering to your schedule, budget, and property. Our driveway-friendly bins are easy and safe to load, allowing you to complete your project without the headache of multiple trips to and from the landfill.

Regardless of your project goals, LJ Containers presents a handy, trustworthy, and green-friendly waste removal solution with our Midland roll off dumpster rental options. Learn more about how our dumpsters can address your specific project demands and schedule a hassle-free delivery online today. With LJ Containers, you're choosing a company dedicated to streamlining your project and making it as streamlined as possible, allowing you to spend less time worrying about piles of waste and more time on what matters.
Residential Dumpster Rental Midland Homeowners Use for Repairs and Renovations
We offer the dumpster rental Midland area homeowners can count on to conveniently and efficiently clear waste while embarking on repair, remodeling, or clean-out projects. Whether you're taking on a major renovation, decluttering your garage, or sprucing up your garden, LJ Containers is here to make your home project less of a chore. With our roll-off dumpster service, we help homeowners like you manage waste with ease and efficiency.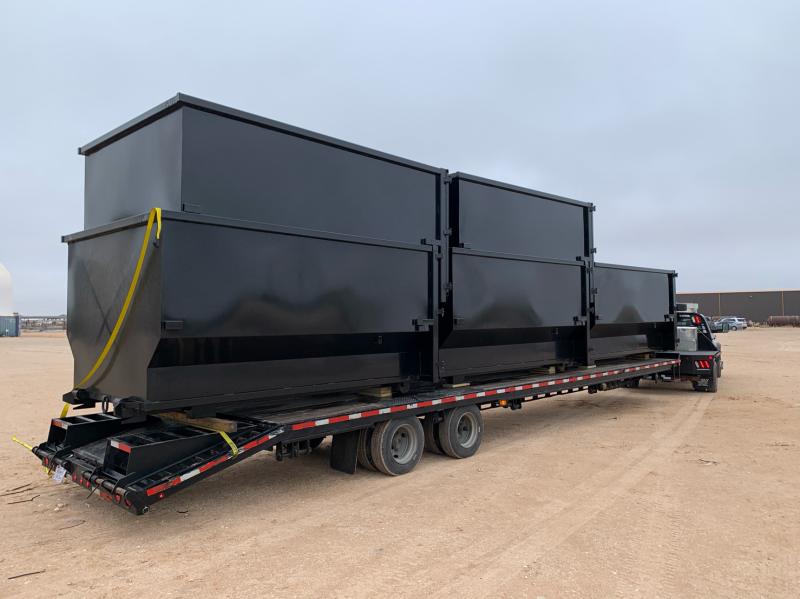 Our dumpsters can handle all sorts of household waste. From old furniture, carpets, and appliances to construction debris like drywall, tiles, and wooden planks, you can trust our dumpsters to handle the load. Whether you're working on a full-scale renovation, tackling a kitchen removal, clearing your home office in preparation for an expansion, or completing weekend DIY tasks, our Midland TX residential dumpster rental is ready for the job. Book the residential dumpster rental Midland TX homeowners depend on to help support various projects. Let us handle the waste, so you can focus on making your house a home.
Driveway-Friendly Dumpster Midland TX Uses for Yard Waste Removal and Landscaping
Managing yard waste is a breeze with the dumpster Midland TX residents and landscaping companies use to efficiently clear unwanted debris. Our dumpsters are well-suited to handle all kinds of yard waste. From branches, leaves, and grass clippings to shrubs, stumps, and even old fencing, our roll off dumpsters can accommodate it all. Planning on revamping your backyard with a new deck or patio? Our dumpsters can take care of the waste from these projects, too, including old concrete slabs or discarded wood.

If you're a professional landscaper undertaking an ambitious commercial project, our roll off dumpsters are just the ticket for making your yard work or landscaping project a breeze. From significant landscaping transformations to simple yard clean-ups, our quality bins, affordable prices, and friendly service provide a straightforward and hassle-free waste disposal solution for all your outdoor waste removal needs. Book the dumpster Midland homeowners and landscapers depend on and get started on beautifying your lawn today!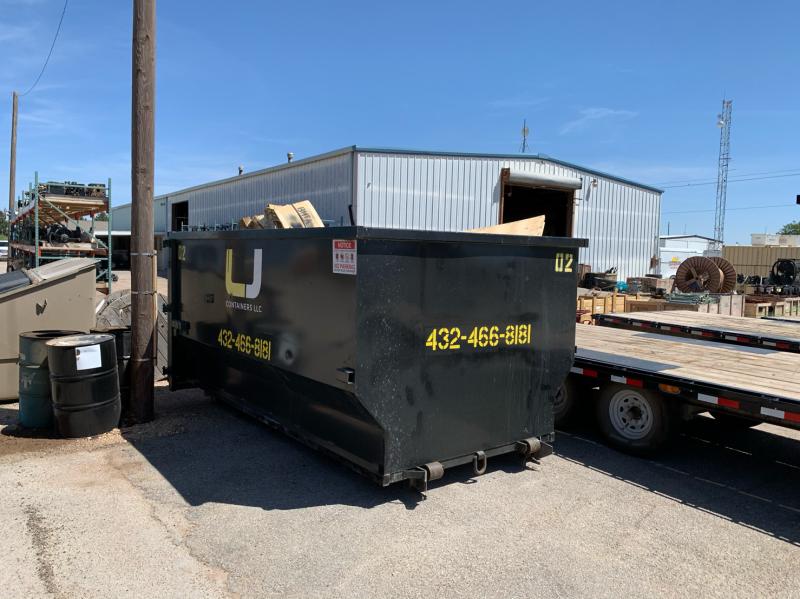 Durable Construction Dumpster Rental Midland TX Contractors Choose First
We have the construction dumpster rental Midland TX uses to successfully and safely complete construction jobs of all types. Are you overseeing a large commercial site where a new skyscraper is taking shape? Or maybe you're heading up a home renovation, turning a dated kitchen into a modern chef's paradise. Are you carrying out a demolition project and need to get rid of broken tiles, concrete, or other unwanted building materials? No matter the size or scope of your project, our dumpsters and team are up to the task. When it comes to construction and contracting work, efficient waste management is key to keeping the project on track. Our roll-off dumpsters offer a seamless waste disposal solution with the roll off dumpster rental Midland construction companies can count on. From wood, metal scraps, and plasterboard to concrete, asphalt, and even old bricks, we've got you covered. Instead of worrying about waste pile-up and disposal, you can focus on the important task at hand - constructing or renovating your building.
Our Midland TX Roll Off Dumpsters is Your Partner in Roofing Projects
Book the Midland TX roll off dumpster roofing professionals use to seamlessly and safely clear waste. From asphalt shingles and tiles to metal roofing and felt underlayment, we can take it all. Even if you're replacing a wooden roof and need to dispose of old timber, we've got you covered. Our dumpsters can handle just about anything you throw at them (or in them!). Whether you're a professional contractor replacing an entire commercial roof, a residential roofer fixing a leak, or a homeowner undertaking a DIY roofing project, LJ Containers is your partner in convenient and cost-effective Midland TX construction dumpster rental options. We understand that efficient cleanup is a significant part of a successful roofing job, which is why we ensure our dumpsters arrive on time every time, so your site stays safe and clean. And when you're done, we're right there to haul the dumpster and the waste away. We provide the seamless service roofers need to focus on their work, keeping their projects on schedule and their worksite neat and tidy.
Business Owners Trust Our Midland TX Roll Off Dumpster to Keep Commercial Spaces Clean
Choose the Midland TX roll off dumpster that local businesses and commercial entities use to keep their spaces waste-free and functional, whether you're running a restaurant, managing an apartment complex, or handling a foreclosure cleanout. We regularly work with retirement and care facilities, office parks, government offices, retail stores, factories, warehouses, and construction companies needing waste disposal support. We understand what it takes to keep a business afloat, and we're here to help eliminate stress and unwanted waste with our options. We offer flexible scheduling options to help support your daily operations, including permanent dumpster placement and a one-time clean-up. If your business is about to undertake a project that will generate more trash than the regular bins can handle, we're the ones to call. LJ Containers is all about making waste management easy and convenient, no matter what business you're in.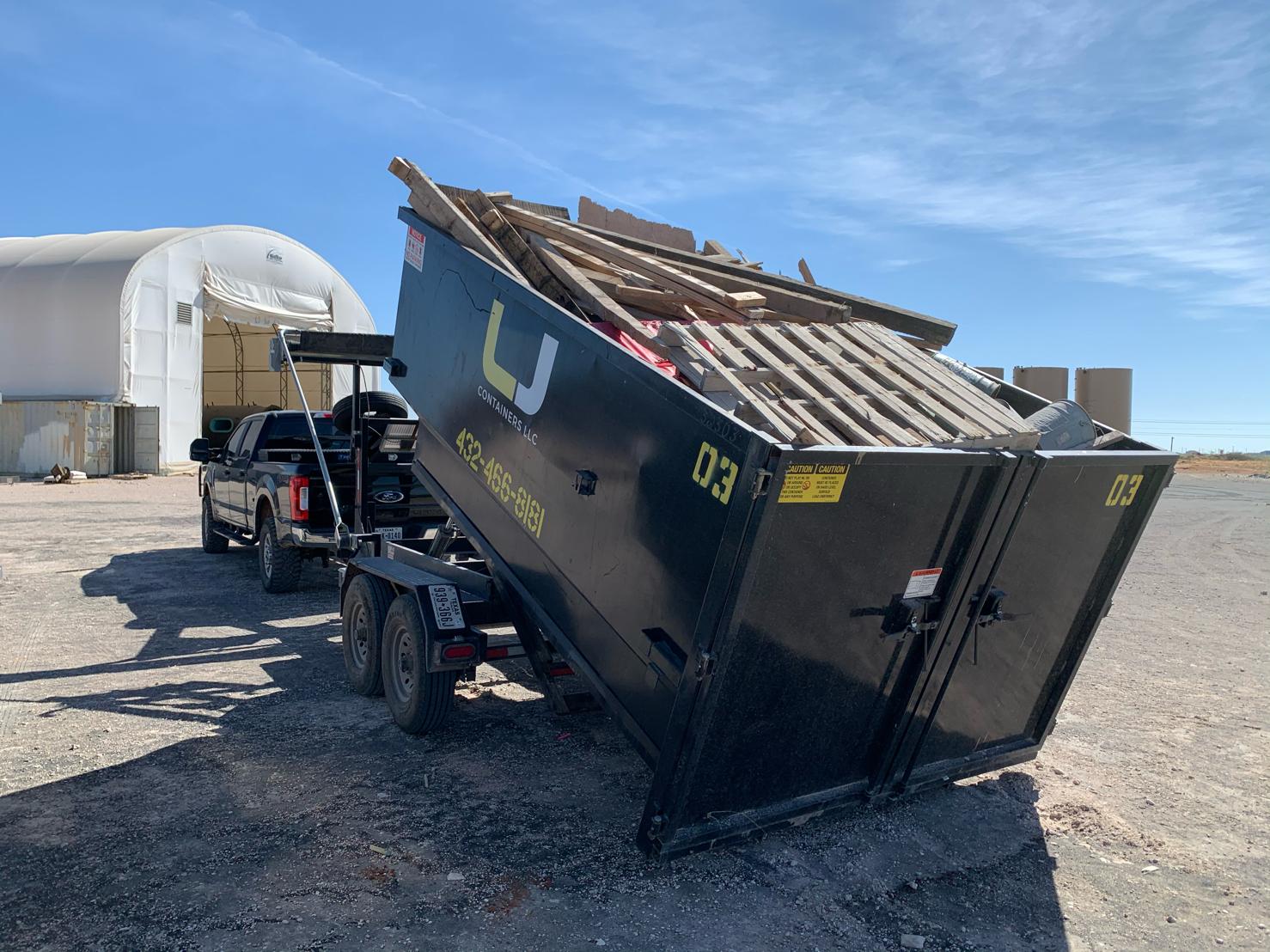 How To Schedule Our Midland Dumpster Rental Online
We've made booking our Midland dumpster rental as easy as a few clicks with our user-friendly online rental system. Whether you're managing a construction site and need additional waste disposal support ASAP or are getting started on a residential repair in the coming months and want to reserve your Midland TX garbage dumpster, our online booking platform allows you to browse our dumpster sizes, choose the best option for your project needs, and securely book using your phone, laptop, tablet, or any other smart device.

We always have friendly folks waiting by the phone, ready to guide you through your rental process if you prefer the personal touch, so feel free to give us a call or text at (432) 466-8181 to get started.

To book a Midland TX roll off dumpster rental online, follow the steps below:

1) Choose Your Dumpster: Start by browsing our range of dumpsters. We've got a variety of sizes to suit any project, big or small. Once you've picked the one that suits you best, click "View Item." Review the listed details, and if all looks good, click "Add to Cart."
2) Select Your Project Type and Dates: Next, let us know how you'll use the dumpster by selecting homeowner, contractor, commercial permanent placement, or long-term commercial service. Then enter the period of time you'll need the dumpster, whether a single day or two weeks. 3) Our system will check availability in real-time.
4) Enter Your Details: Provide your contact and billing information, then click "Continue." Then let us know where the dumpster will be dropped off. This helps us calculate delivery and pick-up times.
5) Review Your Order: A summary page will show all your booking details. Make sure to double-check everything and sign the digital rental agreement.
6) Secure Checkout: Once everything looks good, continue to our secure online payment portal. Enter your payment information using any major credit card, click "Confirm," and there you have it! Your dumpster is booked. Confirmation Email: You'll receive a confirmation email with all the details of your booking. Save this - it has important information you'll need.

Our team will contact you before your scheduled drop-off date to confirm a delivery window that works for you. Our goal is to provide a stress-free Midland dumpster rental experience. From booking to pick-up, our online rental system ensures that managing your waste disposal needs is efficient and hassle-free. Whether you're a call or a click away, LJ Containers is here to make your dumpster rental experience as easy and straightforward as possible. We're all about simplifying the process so you can focus on what really matters - your project!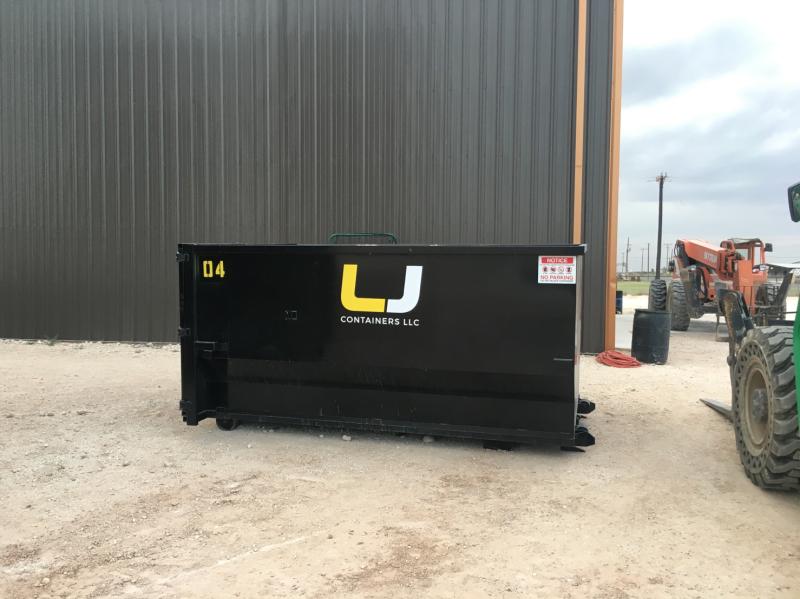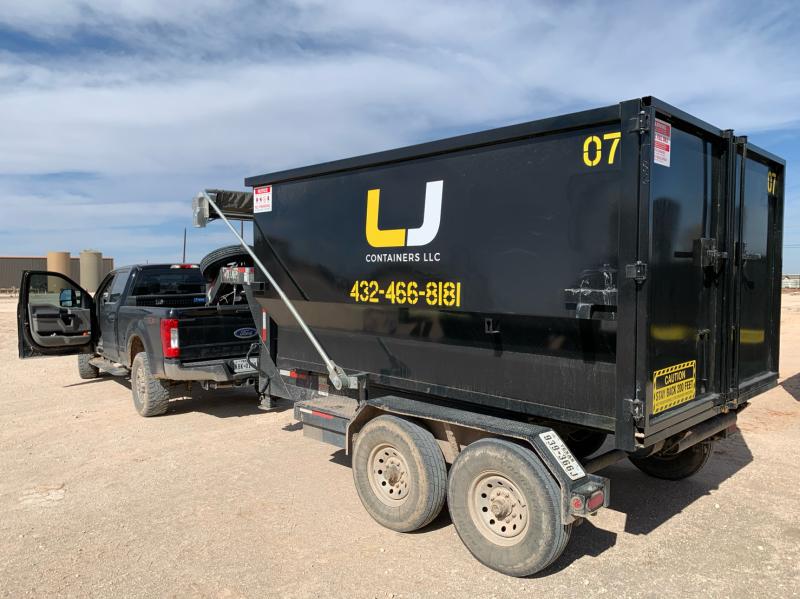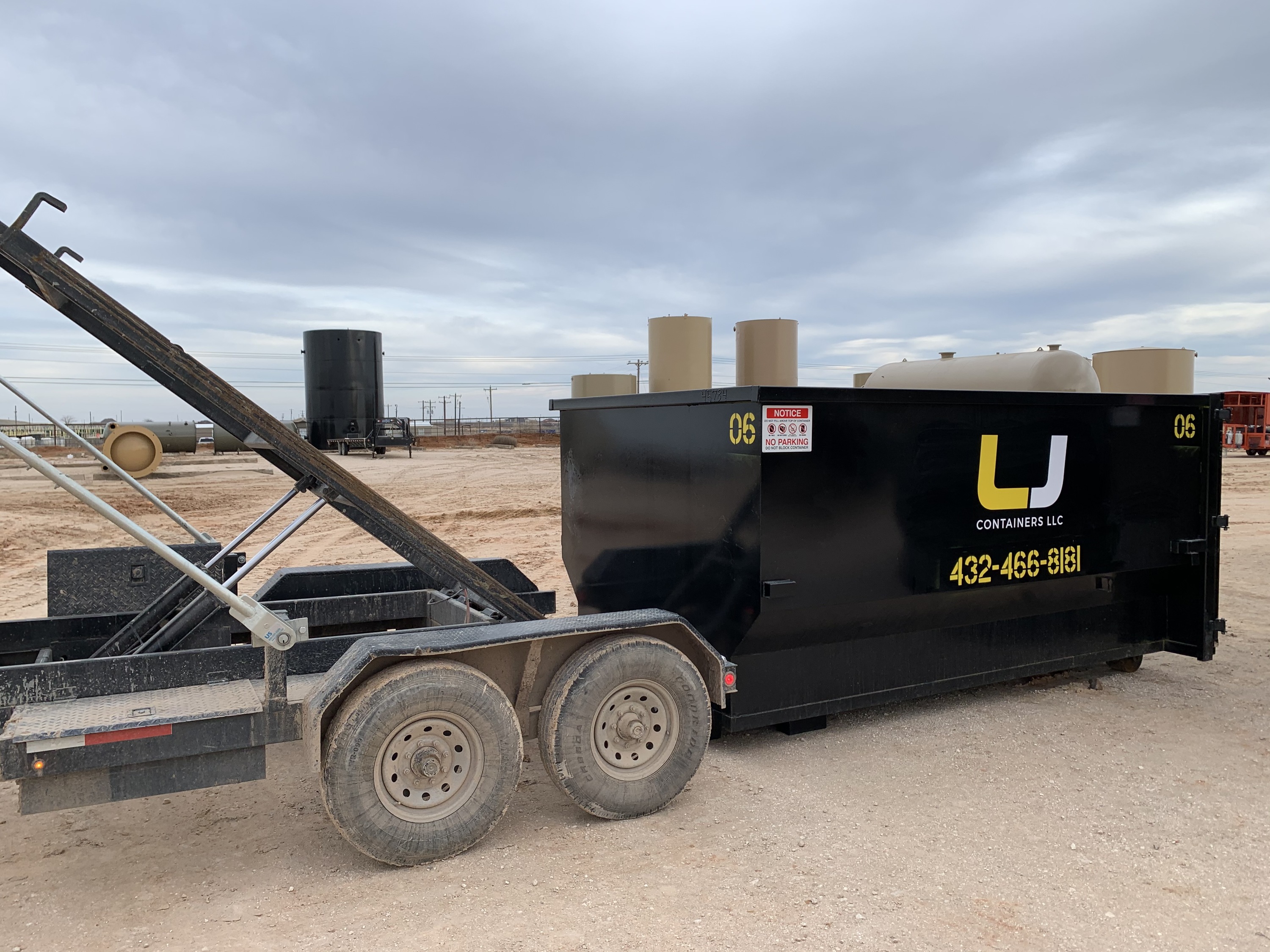 Versatile and Affordable Midland Dumpster Sizes and Prices
At LJ Containers, we offer a selection of Midland dumpster sizes and prices designed to meet the diverse needs of our residential, commercial, and construction customers. Take a look at our inventory below and schedule a delivery online today!

15-yard: For smaller projects, our 15-yard dumpster (the equivalent of six pickup truck loads), available for $350, is a cost-effective choice. It's suitable for minor home cleanouts, yard waste disposal, or small remodeling tasks. This bin measures 7'-6" W x 5'-6" T x 12' L and includes up to seven days of rental time and 1.5 tons of waste removal.

18-yard: Stepping up in size, our 18-yard Midland TX dumpster, available beginning at $375, offers additional space for larger cleanouts and renovation projects. It comfortably accommodates more substantial residential waste or lighter construction debris. This bin measures 7'-6" W x 6' T x 12' L and includes up to seven days of rental time and two tons of waste disposal in the base price.

20-Yard: For more extensive projects, we offer a 20-yard dumpster (the equivalent of eight pickup truck loads) at $399 for up to seven days of rental time. This size is a popular choice for larger remodeling tasks, construction site cleanups, or major home decluttering at a moderate dumpster cost in Midland Texas. This bin measures 7'-6" W x 7' T x 12' L and includes up to two tons of waste disposal in the base price.

22-Yard: Our largest option is a 22-yard Midland dumpster, beginning at $445 for up to seven days of rental time. This bin, measuring 8' W x 6' T x 14' L, is perfect for significant construction or demolition projects, commercial cleanouts, or large-scale residential work. It's designed to handle substantial volumes of waste efficiently, and the base price includes 2.5 tons of waste disposal.

If you're searching for a quick and convenient method for getting rid of unwanted or bulky materials, consider our cost-effective curbside service. Beginning at $325 for up to one ton of waste disposal, this option is great when you're ready to load the waste all at once and get it off your property. Our team will bring an 18-yard dumpster directly to your location, and you'll have 25 minutes to load it. This service is currently available to residents in Midland, Greenwood, Odessa, and Stanton.

Need more time or space? We offer additional days and extra weight at $7 per day after the initial seven-day rental time and $55 per ton. Regardless of your project scale, our company has a competitively priced Midland garbage dumpster rental to suit your needs.
Delivering Our Midland TX Dumpster Rental to Surrounding Communities
Our commitment to the community goes beyond providing roll off containers Midland TX can rely on. We're proud to partner with the City of Midland Landfill, ensuring responsible waste disposal that adheres to local regulations. This collaboration helps us maintain our pledge to an environmentally-friendly service, contributing to a cleaner and safer Midland County. We work directly with the Midland Independent School District to ensure their campuses stay operational and look their best. As a locally owned and family-operated company, we cherish the opportunity to make our hometown a cleaner and more enjoyable place to visit, work in, and live by providing a top-quality Midland TX dumpster for all projects. Whether it's Beal Park's sprawling green spaces, Hogan's Run Dog Park's pet-friendly facilities, or John P. Butler Park's recreational offerings, we're the go-to choice for a Midland TX dumpster rental to keep our public spaces waste-free.

We make sure your dumpster rental in Midland, TX, is ready when you need it. Our team works with you to arrange convenient drop-off and pick-up times, always prioritizing your project's schedule. By choosing LJ Containers, you not only receive high-quality Midland TX dumpster rental service but also contribute to a cleaner Midland.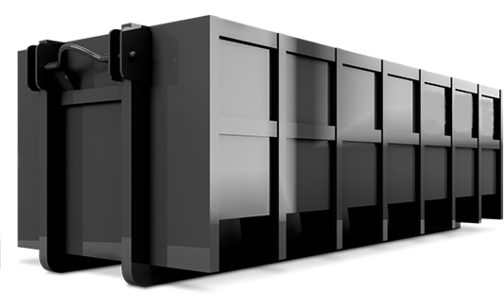 We take pride in delivering reliable Midland TX dumpster rental options across Midland County, including the 79701, 79703, 79704, 79705, 79706, 79707, 79710, 79711, and 79712 zip codes. This extensive coverage allows us to support a diverse range of customers, from homeowners and businesses to property managers and contractors in the area. Our services extend to the neighboring cities of Greenwood, Odessa, West Odessa, Gardendale, Stanton, and other areas.
Service Area
FAQs About the Roll Off Dumpster Rental Midland TX Recommends
If you have questions about the roll off dumpster rental Midland TX recommends most, we're here to help! That's why our company features an informative Frequently Asked Questions (FAQs) section on our website. Browse through our FAQs, get in touch with our team if you have any additional questions, and schedule a dumpster rental online today!
Q.
How long is your standard rental timeframe?
A.
The standard rental duration for our Midland County dumpster rental is seven days. If a customer would like to keep it for any additional days, they can purchase more time at $7.00 per extra day.
Q.
Do I need a permit for a dumpster rental?
A.
No, permits are not required for residential dumpsters in Midland TX, if placed anywhere you'd typically park a car. For this reason, we use driveway-friendly roll-off bins that are compact and neighborhood-safe. It's our goal to provide the most convenient and worry-free dumpster service Midland TX has to offer, and one of the ways we do this is by ensuring you don't have to complete additional paperwork or application processes.
Q.
How do I reserve a dumpster online?
A.
It's easy and convenient to rent dumpsters in Midland TX online using our convenient booking system. To reserve a roll-off container, just click the "Dumpsters" tab in the menu bar, browse our available sizes, add the best choice for your project to your cart, and follow the prompts to check out using our secure system. It's just like any other online shopping experience - quick, easy, and safe!
Q.
What size dumpster do I need for my project?
A.
We offer a few options for a roll off dumpster rental Midland TX uses to contain and haul away waste, beginning with our 15-yard bin and going up to a 22-yard. The 15-yard bin is used for smaller residential cleanouts, flooring or drywall removal, and minor roofing repairs, while our 22-yard bin is used for wide-scale cleanouts, landscaping, and demolition projects. If you have any questions about which bin would work best for your project, contact our team to learn more about the local dumpster rental Midland TX uses to complete a wide range of projects.
Q.
How much does it cost to rent a roll-off dumpster?
A.
Our prices vary depending on a few factors, including the size of the bin, the rental time, the amount of weight being hauled away, and the drop-off location. The 15-yard begins at just $350 for up to seven days of rental time with 1.5 tons of waste disposal included, so if you're looking for the cheap dumpster rental Midland TX can rely on, you've found it!